Murder At The Knife's Edge
a Mystic Pines Mystery – Book 1
by  T.G. Hanson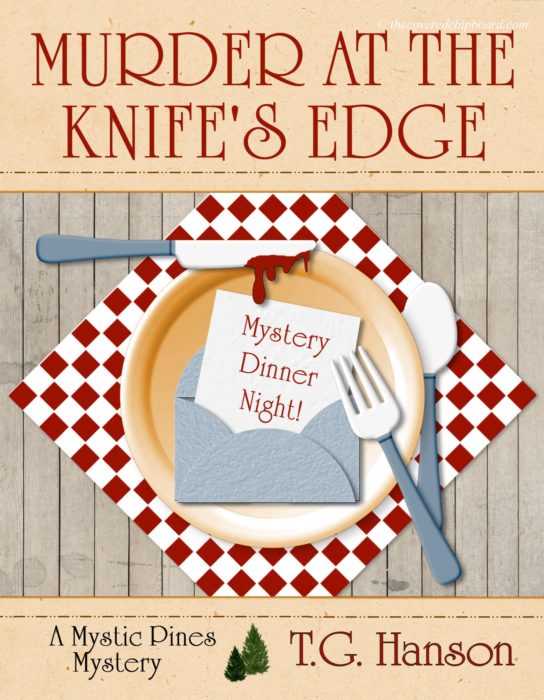 Welcome . . .
As some of you might have heard, I've written my first novel!  It's a Cozy Mystery and the first in a series of several.  If you are not familar with what a Cozy Mystery is . . . it's a very tame mystery story with no curse words, no sex scenes, and no blood or gore – at least not in the extreme or very detailed.
If you would like to follow the series and you're an amazon/kindle fan, you can hop on over to my Author Home on Amazon.
First in a new series: A Mystic Pines Mystery by T.G.Hanson

Emily Rhodes, born into a wealthy upper class family, led a privileged life in California. When her parents died suddenly in a private plane crash, and an attempt was made on her own life, she saw no choice but to flee her family home. Knowing her adopted brother was somehow behind both accidents, she changed her identity and sought a new place to start her life over.

On a routine bus stop, she finds herself drawn to the strange little Texas town of Mystic Pines, on the edge of the Piney Woods Forest. A town founded by a small group of mystery authors and occupied by mystery readers. A town with street and shop names such as: Murderer's Row, Psycho Lane and the Knife's Edge Diner.

Six months later, Meg Stinner (AKA Emily Rhodes), has made a home for herself in the sleepy little town. With new friends, a new love interest, and two thriving businesses, she feels safe and content in her new life. Until, a dead body is found behind her diner and her life comes crashing down around her.

Convinced she has been discovered, she confides in her new best friend, and while trying to keep her past hidden, they attempt to solve the crime.

What readers are saying . . .
" I LOVED it! From the setting of this quaint little town to all the interesting characters woven throughout the mystery. I read mainly historical romance novels but this book captured my interest from the beginning. I felt like I knew each of the main characters as if they were my own friends and neighbors. The story line kept me glued to the book to the very end!!"
I hope you'll check it out and if you do read it, please leave a review at Amazon and Goodreads.  Your reviews are what helps others find the book and support authors.
Have a great day!
SaveSave
SaveSave
SaveSave
SaveSave
SaveSave
SaveSave
All Content and Images
© 2010-2017 Teri Hanson / The Covered Chipboard
All rights reserved.