Not a huge amount of things done today but . . . I did create my first piece of dollhouse furniture from a kit I purchased online and made an alteration to what will be the kitchen area in the house.
The kitchen cabinet, stove and sink below are only one of several pieces in the kit I purchased.  Nice kit, fun to make and only took about an hour or so.  It's called the "Modern Kitchen" from SDK Miniatures.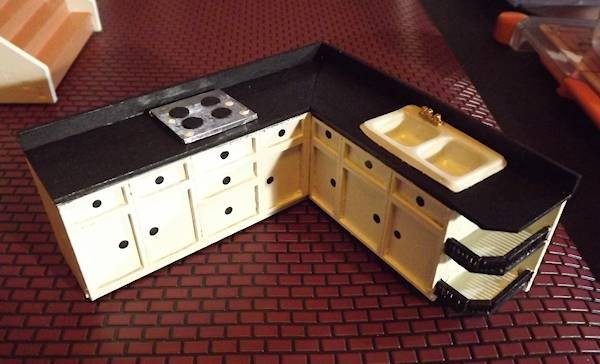 You can see the entire kit in the packaging image below.  What's nice about the kits is that you not only have fun making them but you can customize them to fit your house!  I have a country kitchen planned in black, white, red and blue, so painted my cabinets to match.  I'll be altering the remaining items to fit in the size of my kitchen as the entire set is to large.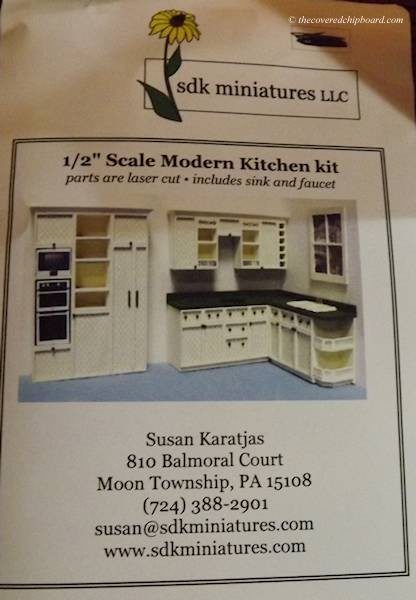 Once made up, I discovered the furniture was to large to fit in the kitchen as the original walls were set up so I made a little modification.  Below you can see (red lines) how the original walls were in the room.  The long wall by the hallway is now gone and the wall that had a door in it has been replaced by a chipboard solid wall I made.  Two pieces of medium weight chipboard, sandwiched together are the same thickness as the wood used in the dollhouse.  I now have a separation from the kitchen and entry and the room is large enough to hold the furniture I want to put inside.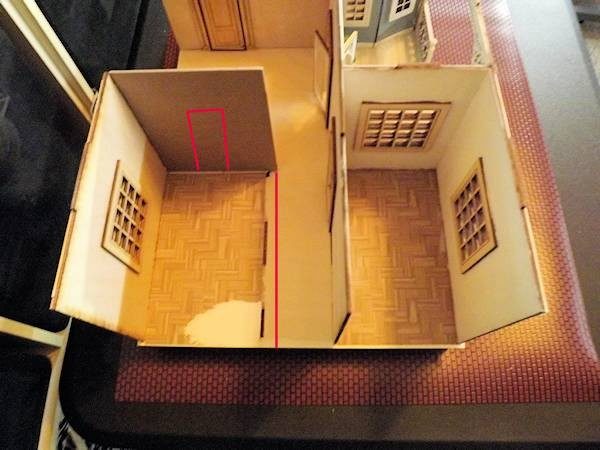 Last but not least, while waiting for the lighting kit to arrive, the Gazebo I ordered to go with my house arrived.  I've started putting it together, super easy kit!!!, and will finish up with a stained roof and colored accent areas, then post a final pic when done.  I will say this . . . if I had a do over on this one, I'd glue it all to start with, mask off the roof and spray paint the rest with cream.  This was a buggar to paint lol.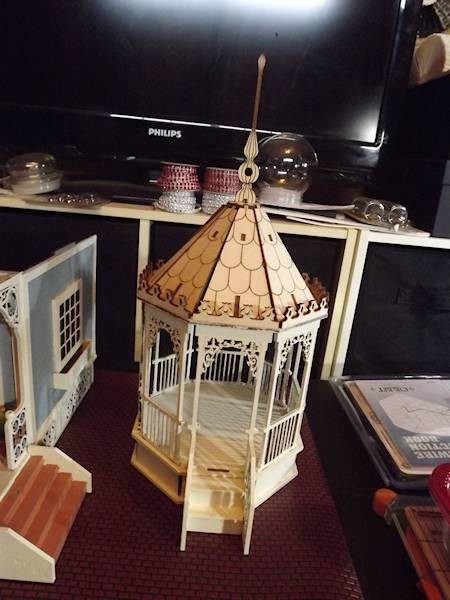 When the painting is finished, I'll be decorating it with some vines and florals.  Won't it make a cute addition to the house landscaping!