Let me start by saying that over the past year, since the Cricut Maker machine was released, I've become a huge fan! Not only of this amazing machine but also of the awesome new materials Cricut has been releasing.
If you have followed me from way back when you know that I love my medium weight chipboard. That said, since Cricut introduced their own version of chipboard I've been converted. Not only is the weight perfect, it's sturdy and very dense and cuts beautifully. As I find more time I know it will be great to use on miniature houses, boxes and journals.
Not long ago Cricut released a pack of Damask Chipboard that is a bit thinner – but still very sturdy – than what they previously released. As you can see it still has the traditional brown color base but features a variety of pretty Damask patterns printed in white on both sides.
If you look at my Damask Book Box project you can see how lovely it looks as a book cover.
Another of my favorite materials is the Kraft Board in black, brown and white. Much thinner than chipboard but still sturdy, this material is perfect when you need some support to a project, for tags, and other 3D crafting. I used a lot of the brown and white around Christmas time for country and farmhouse style projects. Unlike Chipboard that uses the knife blade, Kraft Board can be cut easily with the fine point blade.
Now I must confess that before the maker I never used Cricut cardstock or vinyl. A die-hard Bazzill fan I found myself converted by the quality and texture of Cricut's cardstock. It cuts wonderfully and folds well without cracking. And can I mention their red cardstock! Hard to find in stock it's my all-time favorite red! My only complaint has been that I wish they had a wider selection of colors and that you could purchase all the colors in the larger 12×24 size bulk packs.
Below you can see the red cardstock that was used on our recently released Valentine Truck Box Card!
Most recently I found myself using their Corrugated Cardstock on miniature projects for roofing and siding materials. Available in color variety packs, it's very reasonably priced for project use and I'm sure that I'll be using it a lot more in the future.
Here's a look at an example of the corrugated cardstock used for siding on a miniature house. As you can see it takes paint very well!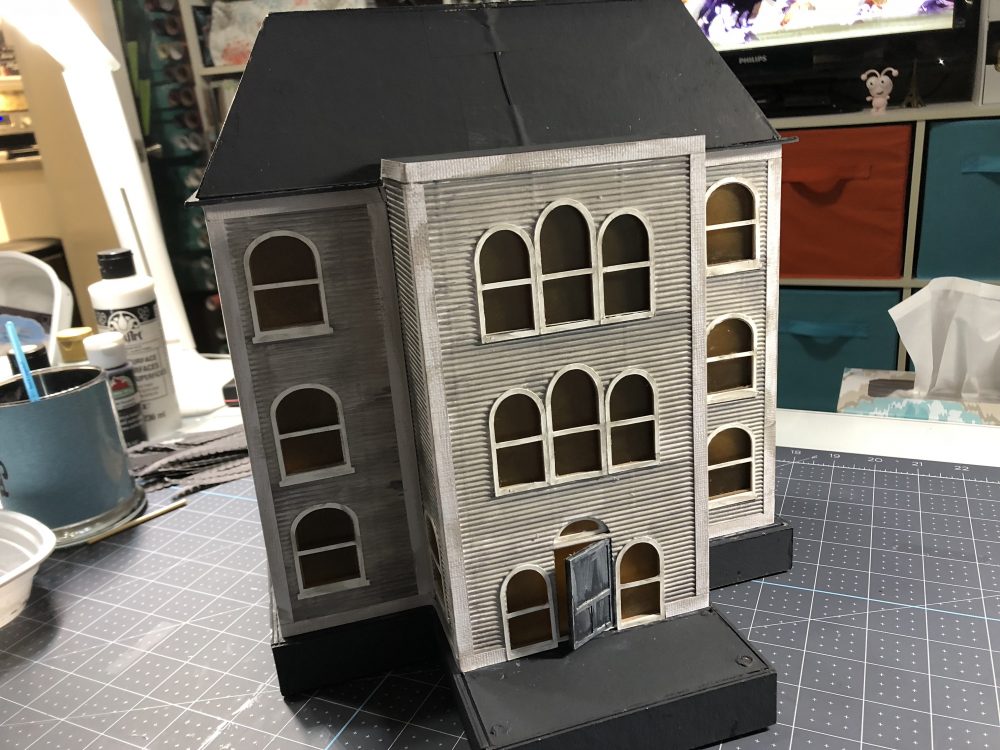 Next up would be Glitter paper, Shimmer paper and Sparkle paper. These are amazing! They look stunning on any project, feel wonderful to the touch and are easily cut without leaving glitter flakes all over the place. It's one material that I always make sure to keep on hand.
Check out this little snowman box that I created using several colors of glitter cardstock.
One material I've never used much was leather or suede. If you have not tried the faux leather, leather or suede you simply must. They are so soft to the touch and beautifully made. Keep watch in the future as I'll be creating some fun projects using these materials.
I made this fun little project from Cricut Design Space, using faux suede to hold post-it notes on my desk!
Last but not least …. Vinyl. Last Christmas I made several gifts using vinyl and was very happy how they turned out. There are so many colors and textures to choose from in this line that you just can't help falling in love with them. It's another line that I'll be using more of this year.
Here's a peek at just a small selection of vinyl. Soooo many pretty colors to choose from!
So if you have only been using cardstock for your projects, hop on over to Cricut.com and check out all the new fun materials. Pick up a few and give them a try. I promise you'll have soooo much fun!
Happy Crafting!
Teri