So now that all the rooms have been finished, it's time to look to the outside of the lighthouse, how to enclose the back and hide the rest of the wiring.  I've decided to use sheets of acrylic and chipboard to enclose the back as if there were floor to ceiling walls of glass on the back.  As to hiding the rest of the wires and the power strip, I'll be making a deck off the back of the house to conceal the power strip.  The entire lighthouse will then rest on a large board with casters on it so it can be turned around easily.
I'll update this post as I get to those parts but for now, here's a look at the back after it's been enclosed.
Materials used:  medium weight chipboard,  0.20 Acrylic sheets, and small thin 1/4″ diam magnets.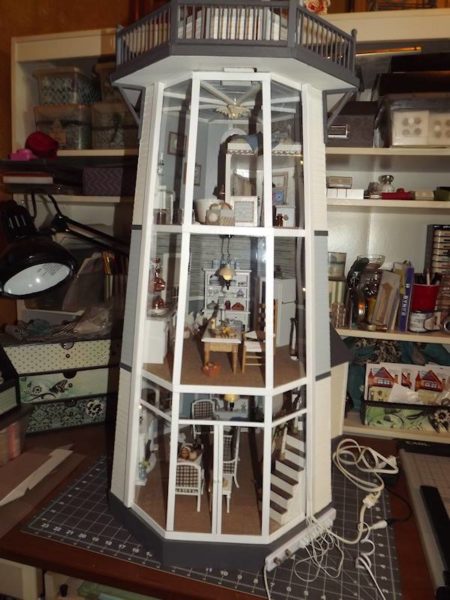 The acrylic on both the left and right sides are permanently attached to the lighthouse while the center walls are removable.  The top of each center wall is attached to the house with magnets while the bottom of the wall simply rests on top of the flooring just a tad bit behind the top chipboard piece of the wall below it.
On the bottom wall I created a false double door using chipboard strips and two doorknobs.  Chipboard trim is added to both the outside and inside of the center walls so that when you look thru a window, they appear finished and you don't see any raw chipboard.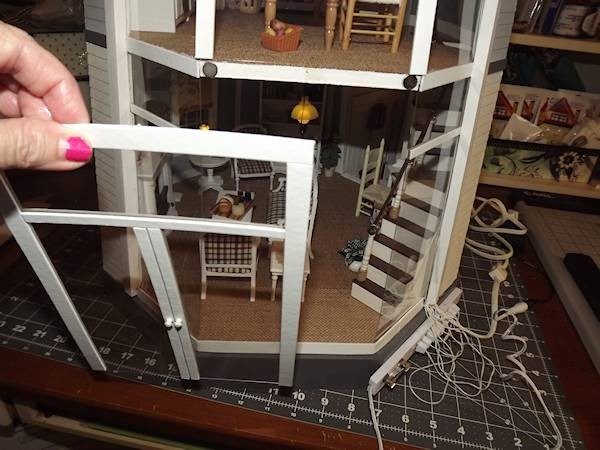 You can see how I've attached the power strip to the side of the lighthouse with all other wires hidden behind the long side trim pieces.  Next I'll be creating an outside deck from the back doors that will wrap around to the side of the house and cover up the power strip.