Hello Friends!   This week we have been moving furniture and setting up spare rooms in the house.  Our youngest son recently moved out to his own place, so we are empty nesters once again.  With three spare bedrooms it seemed silly not to utilize them in some way.  If you have seen pics of my craft room you will know that hubs had a small section of the room for his computer.  Well now, he has his own "Man Cave" in one of the spare rooms and I have the craft room all to myself!!
The upside to all this …. I get more space for storage.  The downside … we had to move the modem into his man cave, for his computer which isn't wireless.  But …. it would seem that our modem might have been in a dead spot in the office because it's working better since the move than it has in the past.  Make a note …. if you modem drops out a lot, you might try moving it up higher or to a different location in the room/house.
So one thing led to another and I've been building new cubbies for more office storage.  Moved some things around and such.  In the meantime my keyboard for the PC stopped working!  Now I run both a MacBook Air and a PC, plus an IPad, in my office.  You can imagine the cords and such all on one desk area (grin).  Anyway …. just thought I'd share my set up with you and the great find of a keyboard that I got!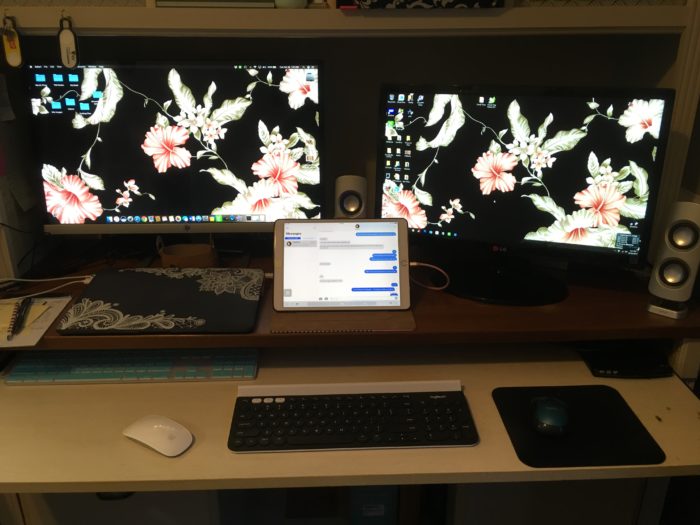 Above you can see the computer set up.  On left I have a MacBook Air laptop that is hooked up to an external monitor.  With the use of an HDMI Adapter I can easily unplug my laptop for use outside of the office.  My PC monitor is on the right side of the desk with the tower way off to the right.  In the center is my IPad which can easily be moved as needed.
Previously I had a keyboard hooked to the mac laptop as well as one for the IPad which pretty much took up the entire pull out keyboard area and then some.  Then I found the Logitech Multi-Device K780 keyboard you see below.  Notice above that I now have only the one keyboard and then a mouse for each computer.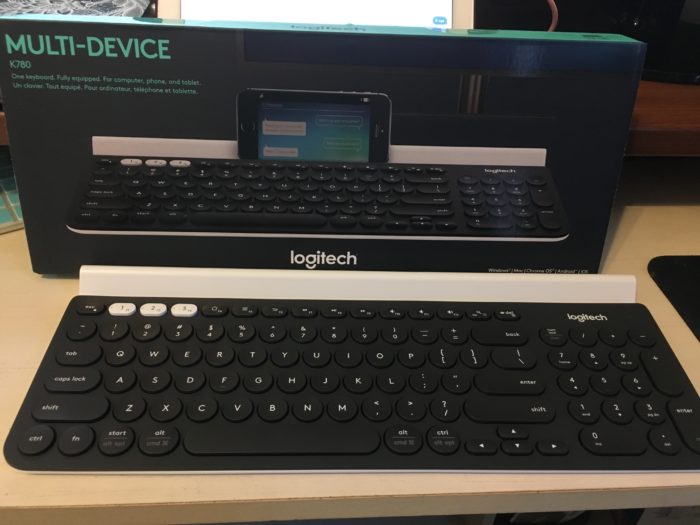 This little baby, with the push of a key, uses bluetooth or USB dongle to switch between the two computers and the IPad.  It's simple and quick to change from one device to another and was simple to set up.  Just like setting up any bluetooth device.
See the three white keys – 1,2,3 – in the top left of the keyboard?  Each gets assigned to a single device and to switch between them, simply tap the appropriate key!  Easy peasy!  And now ….. no more desk clutter!  Awesome huh.
So next time you are in search of a great keyboard or if you have multiple computers and want to save some desk space, check out the Logitech one shown above!
Till next time ….
SaveSave
SaveSave
SaveSave