Hanson's Village Shoppes is a brand new series of projects for 2016. Each shoppe has been created with a shoe box or photo storage box, medium weight chipboard and printed papers. You will find a variety of options for creating each shop as well as interior projects, and I hope to show you some challenging ways of creating exteriors as we move along in the series.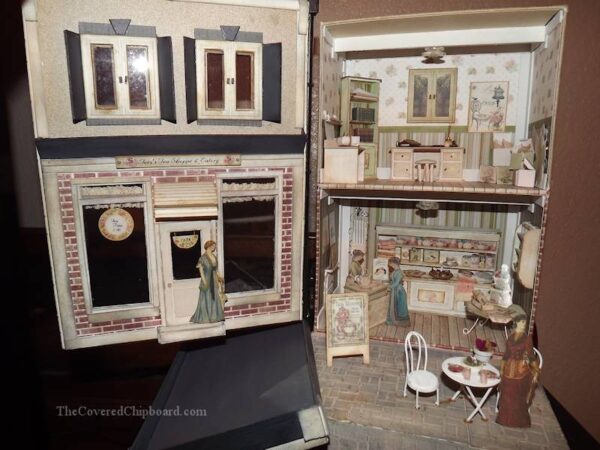 Please note that the tutoriasl are only for the buildings. You will find separate tutorials for the respective shop furniture available in my Etsy shop. Why you say . . . it was my thinking that while some might create all the shops in the series, others might only create one or a few and some might want to make their shop a tea shop while other might want different themes for their shop. I decided this would be the most economical and easiest way for everyone to be able to do what they wanted.
The first project in the series is "Teri's Tea Shoppe". With a vintage charm about it, the shop sits on a cobblestone base and measures 13-1/2″ high by 8″ wide and with the base is 11-1/2″ deep. The house alone is about 8″ by 12″ by 5″ and is very close to 1:24 (half scale) in miniature scale. Half scale furniture and accessories would fit in it just fine.
Here's a look at the project . . .
Available in my Etsy Shop now!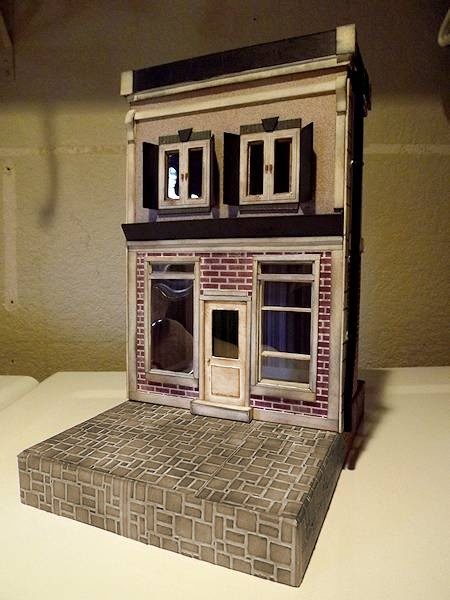 The shoppe is connected to the base with a removable roof and front wall for access to the inside.  You'll find the detailed step-by-step PDF file tutorial easy to follow with tons of photos for visual aid.  The tutorial also includes various ideas and options for creating your own shoppe and if you follow this blog category, you'll be able to see the furnishings, how I've added inexpensive lighting to the shoppe and various accessories, as I add them, all the way to the final item.
For lighting the shop, I ran across these very easy to install LED lights that I think will be perfect!  I've got two of them arriving today and will update this post once I have them installed, with a photo.  These lights don't burn hot, last a LONG time, and you can leave them on all the time!  I've created a ledge in the shop where you can hide the little bit of wiring for the light . . . you basically just attach the light and lay the wiring on the ledge.  No tools required!
You can see and purchase the lights HERE for only $5 each!
Here's a little look at the preview where you can see the inside of the shoppe and how it opens.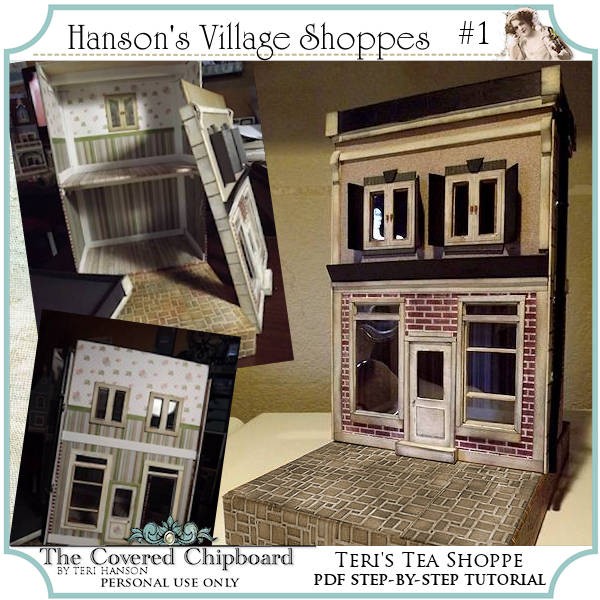 Project includes . . .
PDF file tutorial with step-by-step instructions and photos
Link for online version of the tutorial for those who prefer it
(12) 8.5 x 11 size printable papers to use on your shoppe
Main Materials . . .
Shoe Box or Photo Box with Lid
Medium Weight Chipboard
1/4″ Score Tape
Stay tuned for updates on this shoppe and watch for new shoppes coming soon!
TOUR the Tea Shoppe now . . .
Save
Save
SaveSave
SaveSave