Tiny Paper House Project by Teri Hanson © 2020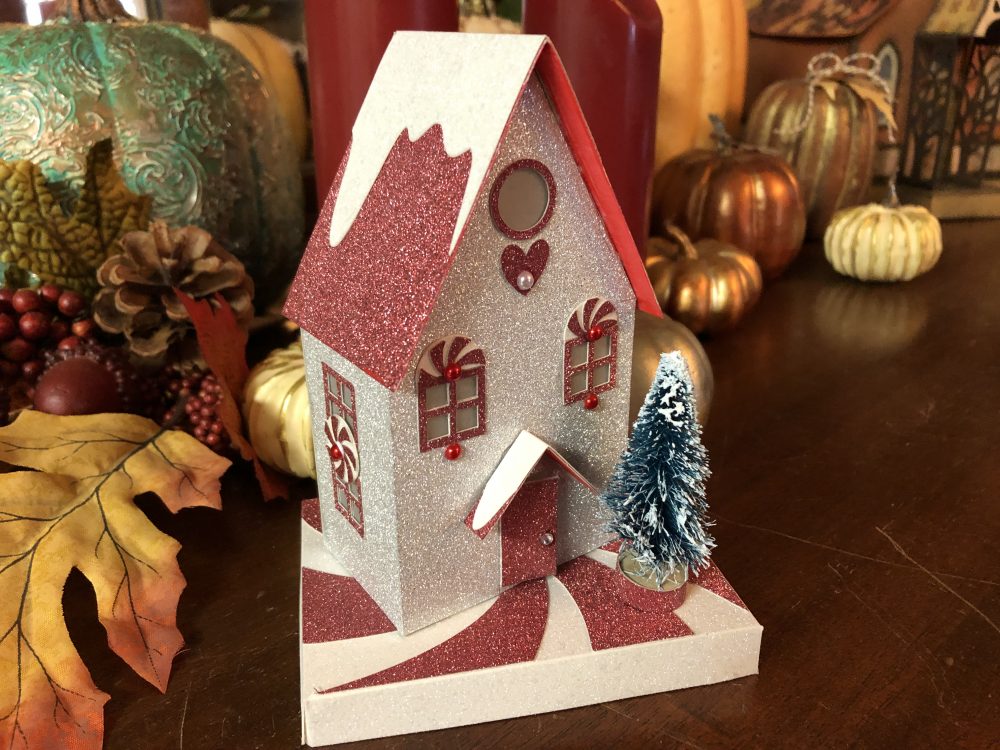 Here's a cute little paper house decoration to get you in the holiday mood! Perfect for just about any place you need a small decoration. You can easily adapt the decorations on the basic house to fit other holidays or for everyday.
Size . . .
Finished House measures: approx 4 3/4″ tall, 2 1/2″ wide, 1 5/8″ deep
Finished Base measures: approx 4″ wide, 3″ deep, 1/2″ tall
Files available for Cricut (SVG), Silhouette (DXF) and ScanNCut (FCM). Choose the files for your machine once you purchase the project.
Now available as a Pre-Cut Kit in white Kraft Board or Glitter Cardstock!
Purchase at Blog Shop
Purchase at Etsy Shop
Materials . . .
Recollections Holiday Glitz cardstock pad: silver, white and red
Vellum
Small tree
Adhesive of your choice or scor-tape
NOTE: the files should open at the correct sizes but please check them against the cutting guide in the PDF before cutting! Also note on the house that the door has three lines to be cut and one line is scored. Only a single circle (peppermint back) and single swirl (peppermint front) are included in the files so you will need to duplicate these to get 4 complete peppermints.
Here's a close-up of the windows showing one of the peppermints cut in half.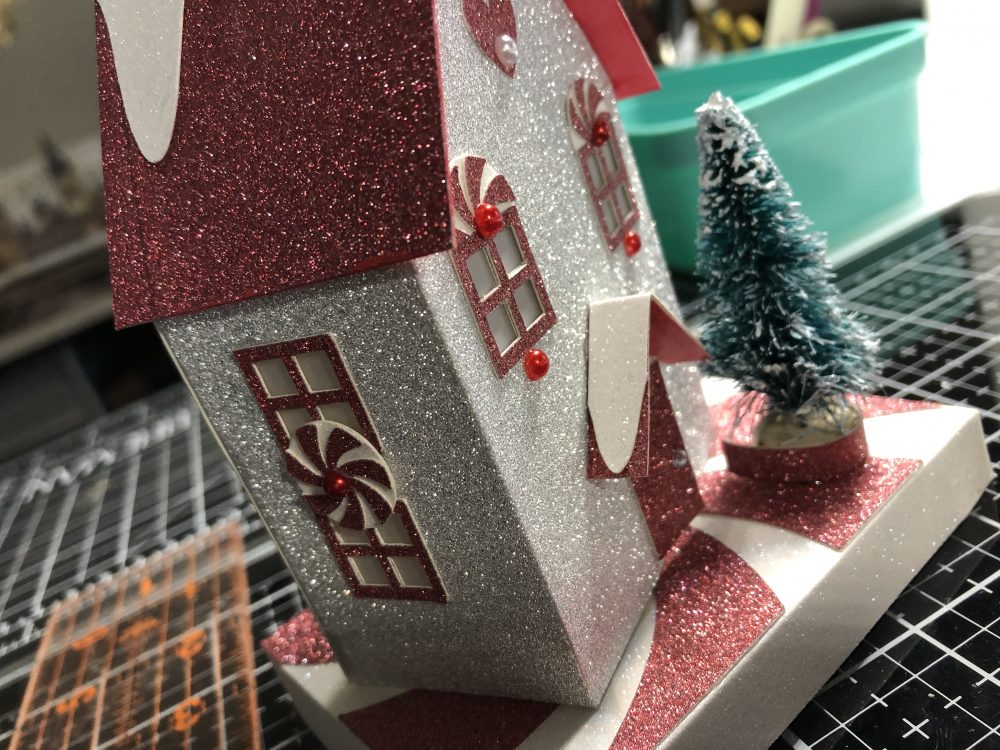 I made the two windows on the backside the same as the ones on the front.
Construction . . .
Glue vellum to all window areas on the backside of the house.
You can fold and construct the house prior to adding the outside windows or after. Glue the house together with the side tab then glue the roof flaps down to the tabs on top of the house.
Add windows and other decorations as you like.
Glue the red roof on top and then the door overhang.
Glue on the roof snow pieces.
Build the base and add the swirl accent to the top of the base.
Leave the house unattached from the base so that you can place a tea light inside!
NOTE: If you choose to create your house with heavier materials such as grit paste or other texture, it could cause the base to sag over time. To prevent this, cut several sheets of thick cardboard, stack them together and glue to the inside of the base to support the extra weight.
Happy Holidays . . .
Teri