One of my favorite places to purchase SVG files from is SVG Cuts.  Not only do they have some really cute things but their construction videos are awesome leaving no doubt as to how to put a project together.  Stop by sometime and take a look at the lovely projects they offer.
Today I'll be using the pumpkin files from the Harvest Sunset Bundle by SVG Cuts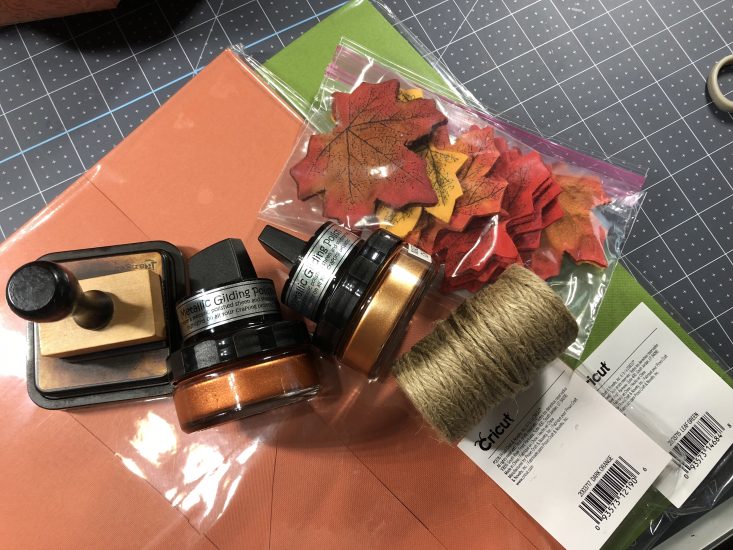 Materials . . .
I've constructed my pumpkin in the same way that was shown in the video below.  In the end I decided to glue the lid to the bottom since I'm not putting anything inside the pumpkin.  You can also see that I've added some extra decorations.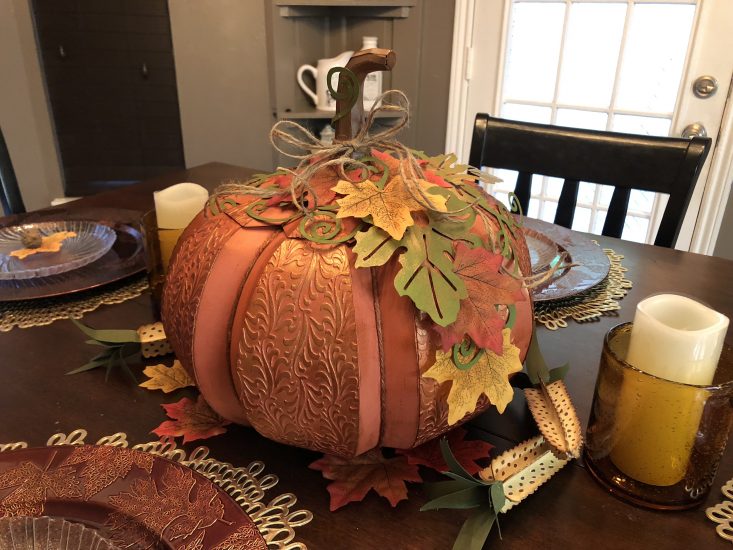 Once the pumpkin was all put together I've created panels from the original file for sections on the lid and the bottom as seen below. These were run through my Gemini machine and embossed with the Feather Illusion folder from Anna Griffin.  For the longer sections you will need to run the piece through twice – first the top and then a small section at the bottom because it's longer than the folder.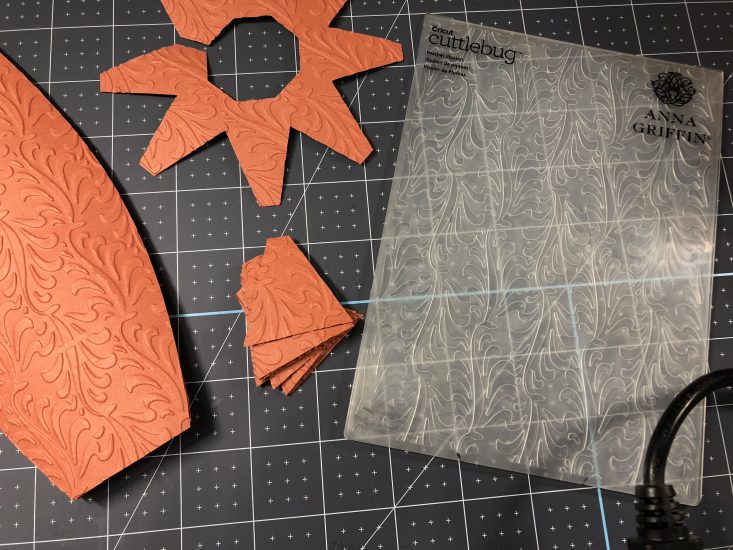 I then glued all the panels in place on the lid and bottom.  I did not do panels for the very last section on the bottom of the pumpkin because you just don't see them well.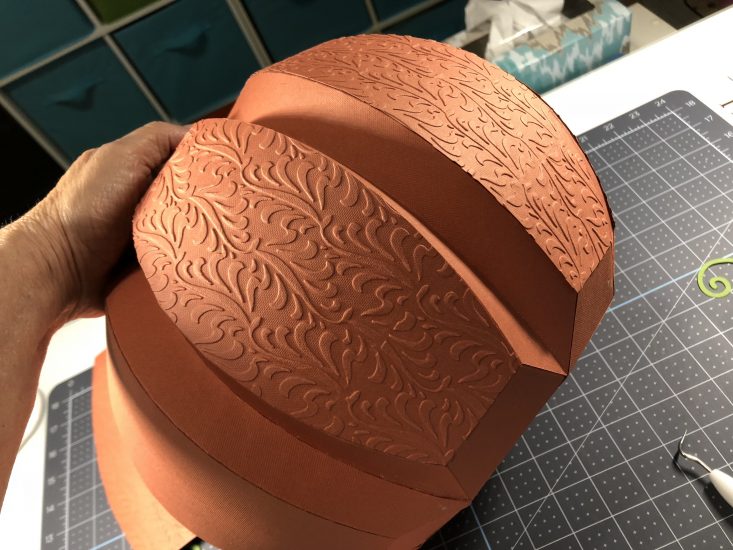 Distress all panels as well as the recessed areas with the vintage photo distressing ink.  Next apply the Copper Shine gilding paste.  You might also add the same to the stem. After a few minutes apply some of the Red Bronze gilding paste in random areas.  You don't want to cover all of the copper shine color.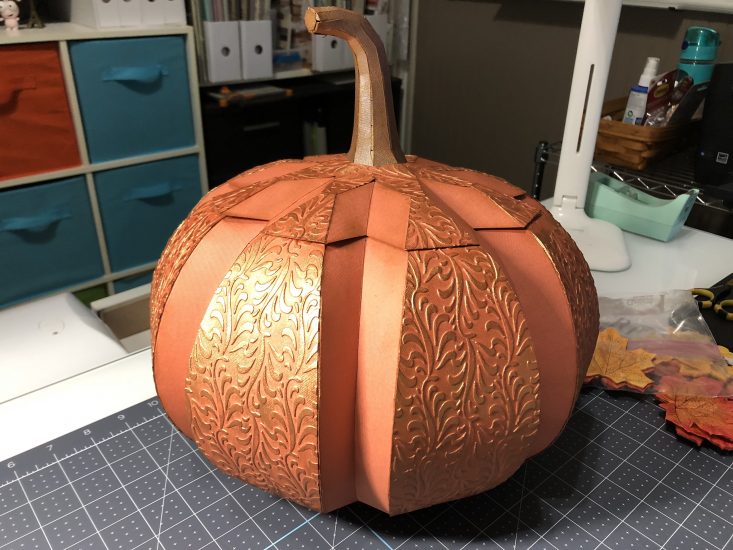 Now add distress ink and gilding paste to the green leaves you cut.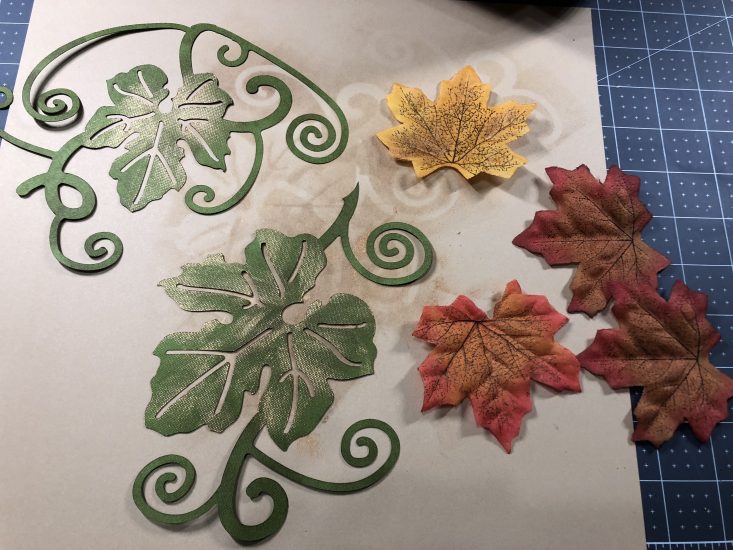 Apply gilding paste to the jute – lay the jute on a piece of scrap paper and drag the paste applicator over top of the jute.  You will need quite a bit of jute but can do this in parts if needed.  Glue jute into the center of the recessed areas on the lid and bottom. Add leaves, gluing in spots then cut more jute and tie it around the top leaving tendrils and a bow.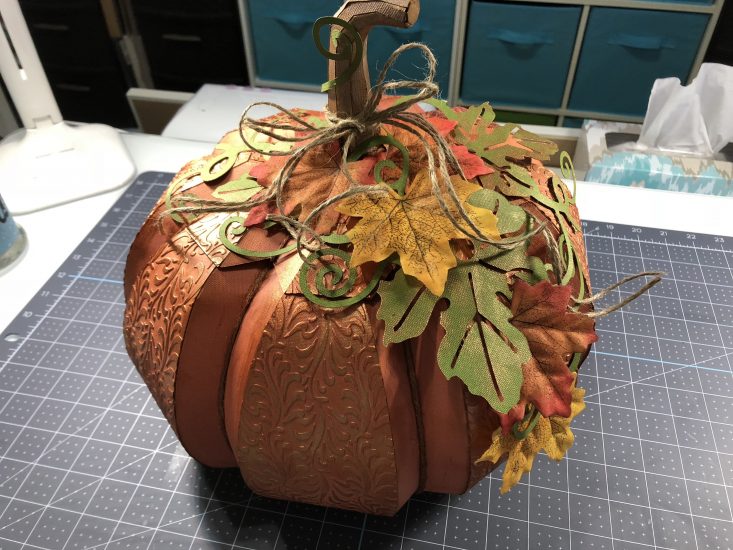 And that's it.  I should say that when finished the pumpkin is about 12.5″ in diameter.  You could resize the files to make a smaller version.  Just be careful how small you go as gluing all those side tabs could get tricky at a smaller size.
Have fun!!!