Happy Monday! This week I actually managed to make a quick project on "Monday" lol. By now you must have noticed that "Monday Quick Projects" has been changed to "Weekly Quick Projects" (grin). It seems no matter how hard I try to do something on a specific day …. it just never seems to happen.
So this week I have a "trash-t0-treasure" kind of project for you. If you use a cutting machine of any kind you'll find yourself with a stack of old mats that you can no longer use. Well …. do NOT throw them away! An old blue Cricut mat became the backboard/base for this cute holiday chalkboard!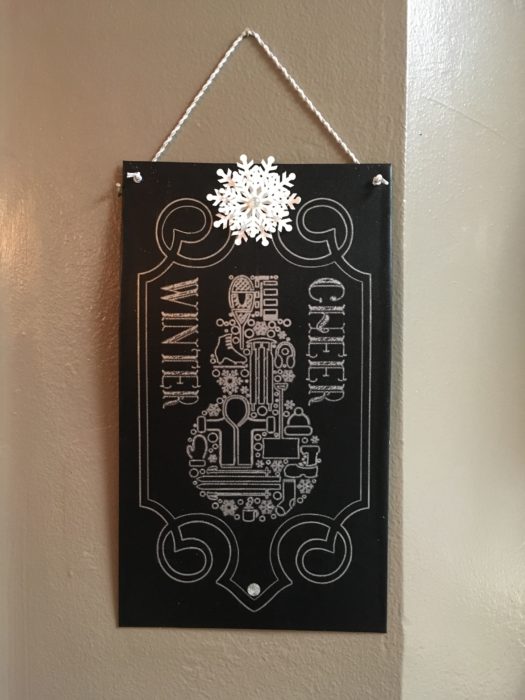 Materials . . .
Cricut Chalkboard Vinyl
Cricut Silver Metallic Pen – Med tip 1.0
Cricut Glitter Cardstock – White
Holiday cording and gems from Michaels
Score tape, kraft knife, glue
Cricut Design Space files . . . (click to locate the file share inside design space)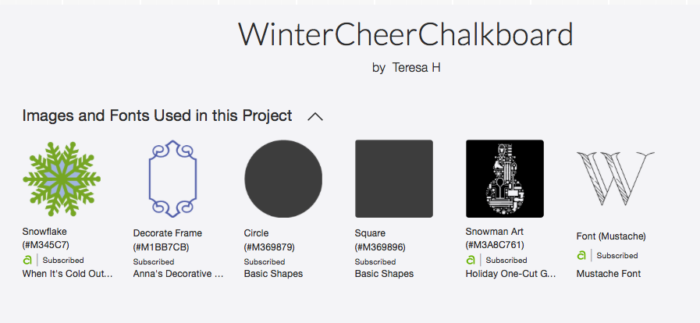 Note: I've turned off the back section of the snowflake and used two different sizes, one on top of the other.
I started with a 12×12 size mat and the finished project measures 8″ x 14″. From the image below you can see that I've cut some of the mat off on the left and right sides.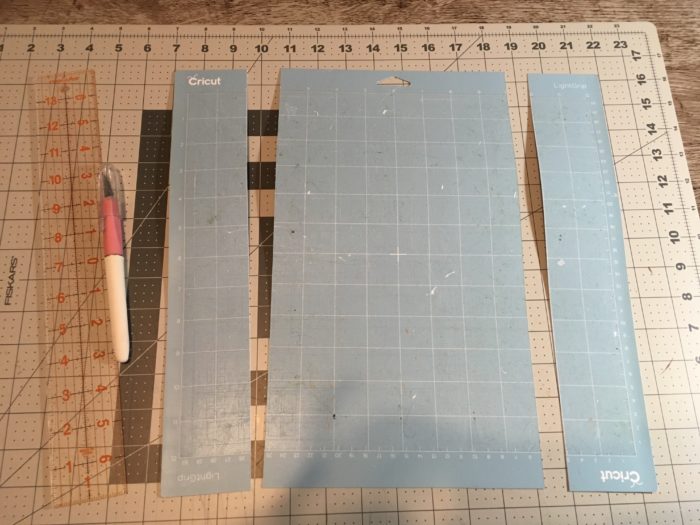 I've cut the chalkboard vinyl slightly larger than the mat so that the material could be wrapped around to the backside of the mat. Use score tape (double sided adhesive) around all edges of the mat, front and back sides, to help secure the vinyl in place.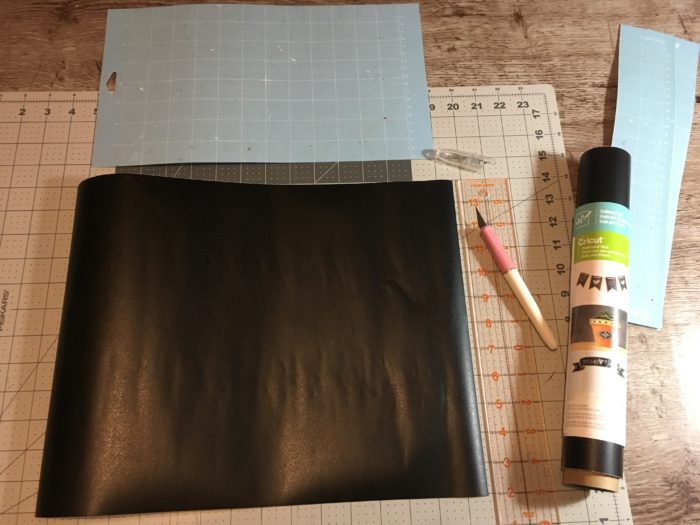 Smooth the vinyl down on the mat so there are no bubbles and then stick it in the Cricut Maker machine to draw it out.
NOTE: Be sure and move the design to the center of the mat and down an inch, after you click "Make It" so it will draw in the center of the material!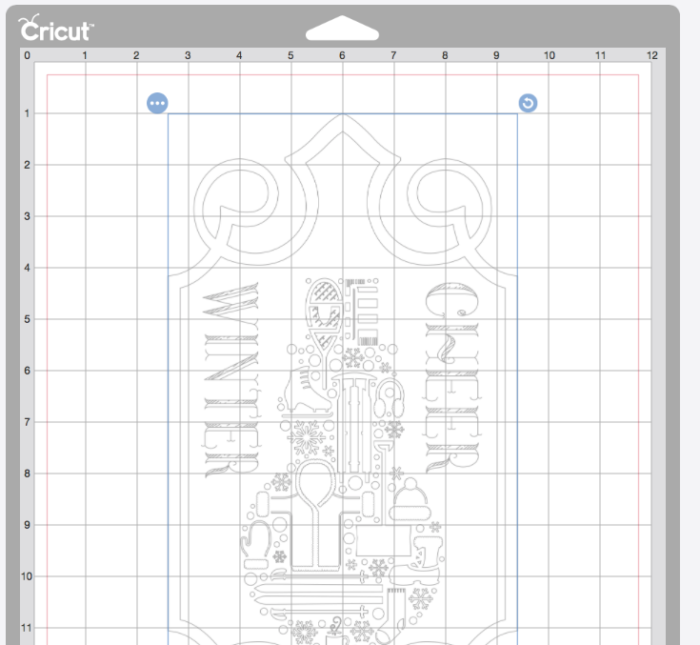 You will need to use a long mat (12×24) for this design.
And here's the design drawn on the material!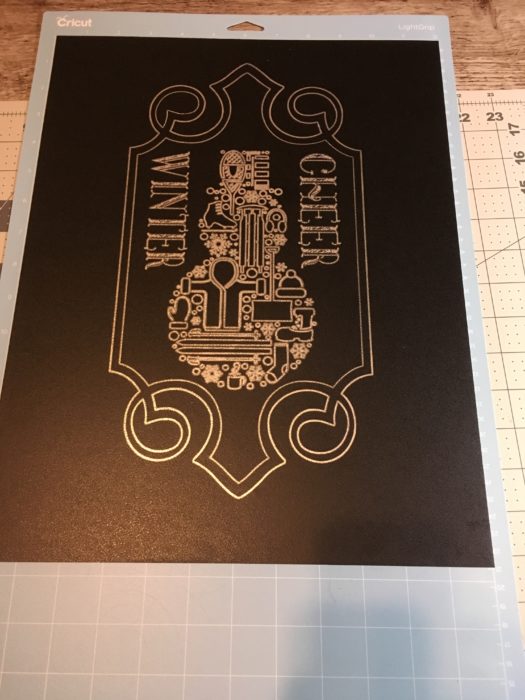 Apply the material to the mat being sure that you squeegie it on there good, especially on the edges. Trim up the corners and wrap around to the back of the mat as seen below.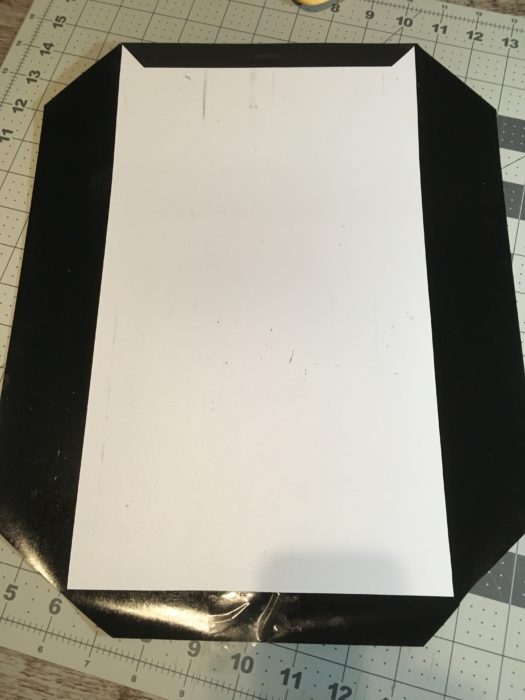 Punch holes for the hanger, add embellishments and you're done!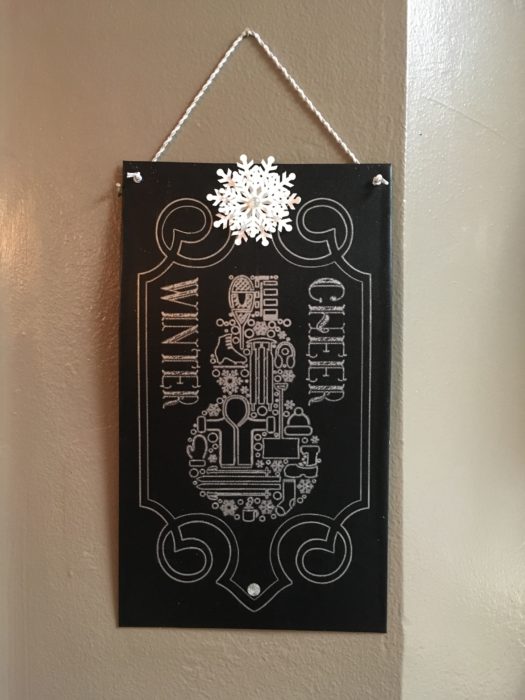 The mat serves as a good base for the chalkboard and you can make your sign any size you like! Use a big mat and do a word collage! This project took me about an hour to make, including setting up the design.
Happy Holiday!