Product Designer: Teri Hanson
Hello!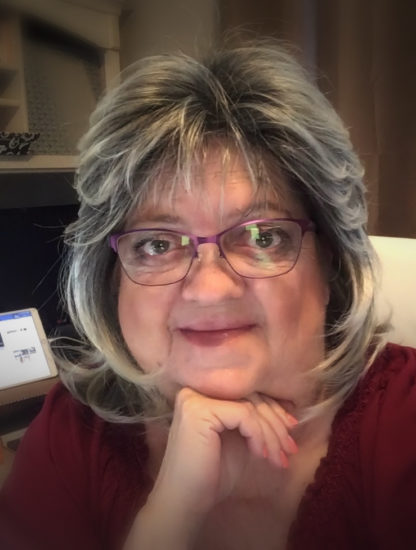 Creating art in some form has always been something I do. As a child I begged for new coloring or sticker books and nothing was as thrilling as a brand new huge box of Crayola colors. Art class was the main reason I loved going to school and was my main focus thru college. Going digital and creating my own scrapbook kits was a natural progression for me from here.
Now nothing gives me more pleasure or fills my soul like creating a digital kit and using it to scrap a page or create a book about our family. I love hearing from customers how they used my kits to create pages for their own family history books and how the kits inspired them to do so. I so enjoy hearing customers, who I call friends, family stories and how they are using my kits.
Not long ago I took a break from crafting and wrote my first novel: Murder at the Knife's Edge, a Cozy Mystery.  You can pick a copy up on Amazon if you are interested.
These days I've moved into paper crafting using the Cricut Maker and have fallen in love with creating 3D projects.  I also create and work on miniature houses in various scales.
So grab a cup of your favorite beverage and browse the site.  I'm sure you will find something crafty to make!
Fun stuffs . . .
My favorite color: impossible to pick just one! I have to say dark victorian colors, any shade of pink and lime green. I know . . . funny combinations huh lol.
My two boys are now grown . . . early to mid twenties and yes, both are in the Army.
Married to an awesome man for 25 years this next May.
We live in a small town in Texas, just outside Fort Worth (and no I don't own any cattle or cowboy boots lol)
Why is: "Beauty Is In The Eye Of The Beholder" my favorite quote? Because I believe there is an "artist" inside everyone just waiting to get out and it drives me batty when one person decides someones art is not pretty or good enough! People put their heart and soul into their creations and for that reason alone, above anything else, makes everything they create wonderful!
SaveSave
SaveSave